Back to previous page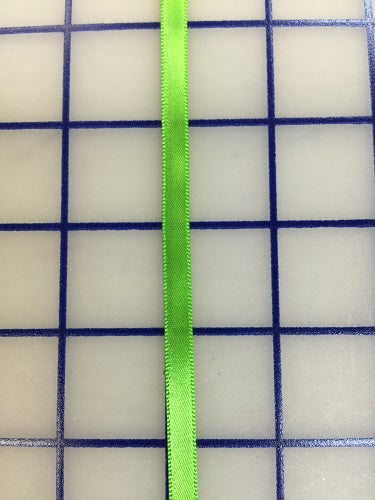 Single Face Satin Ribbon - 1/4-inch Apple Green
Priced per yard. Apple Green, 1/4-inch single-face satin ribbon. Quantity discount of 25% on 100-yard rolls. 
For more information, visit our Orders & Returns Page
SHIPPING COSTS
Tutu.Com offers free, domestic ground shipping to the 48 contiguous United States, up to $20, on orders costing $99.99 and up.  This free option covers about 85% of orders. For very heavy orders that cost $99.99 or more, the first $20 of your shipping will be free. We will invoice you for any shipping amount over $20. Once shipping is paid, your order will go out. Our minimum domestic shipping charge for orders $99.99 and under is $11.00 for a USPS Priority Mail envelope, $13.00 Ground/Priority Mail box, $16.79 Flat Rate Box, $27.00 for USPS Express Mail envelope, and $37 for USPS Express Mail box. Base International shipping charges are Canada: $42.00 USD - Hong Kong, Sweden, Netherlands, Germany: $45.00 USD - Europe $70 USD - All other countries: $50.00 USD. If your base-rate/minimum shipping charge does not cover the cost to ship your order, we will bill additional shipping charges when your order is ready to ship.
We have several base rates for classical tutus that must be shipped in over-sized boxes. Actual costs can run between $30-$60 in the continental U.S., more in some places. Occasionally, it is less expensive to ship Express rather than Priority.  We will always research what is the least expensive way to safely ship your items. We will also insure costumes for their full value. This will add to the cost, but not too much.  All custom costumes are shipped with signature required when delivered.  This is for your protection.
If you require a shipping cost estimate prior to placing your order, please call us Toll Free US & Canada +1-877-888-8266 - International +1-704-519-4771 from 10 am to 5 pm EST and we will be happy to estimate your shipping charges.
If you are ordering something small that can be sent in an envelope, like one sample card, the difference between the postage and the automatic minimum shipping charge will be refunded.
TRACKING & INSURANCE
Unless otherwise requested, orders shipped within the US, including Alaska, Hawaii, Puerto Rico, and most US Territories and Military addresses, are sent via USPS Domestic Priority Mail (2-4 day) with Delivery Confirmation. You will receive an email with your package's tracking number so that you may track your package. The USPS provides $50 insurance on Domestic Priority mail and $100 on Domestic Express Mail. If your order cost is higher, we will automatically insure it for the total. There is an extra charge when we do this, but it is minimal.
PROCESSING TIME
We strive to ship in-stock items within two Business Days after we receive your order. (This does not include custom-made items, like tutus and other costumes, which require a lead time and are shipped when completed. Also, orders which include fabric-cuts or custom-dying may require an additional time, but we will always let you know how long it will take.)
INTERNATIONAL
For destinations outside the United States, orders are sent via USPS Priority International (six to ten days) or USPS Express Mail International (three-five days). Express Mail International is faster than Priority Mail International, provides much better tracking information, and may pass through your country's Customs quicker. Delivery times are dependent on your destination country and on your local postal and Customs services. Customs delays are not the responsibility of Tutu.Com. Our shipping rates do not include any Customs Charges that may be imposed by your country's Customs regulations.
Tutu.com Size Charts | PDF 
It contains size charts for all Tutu.com products; ballet tutus, bodices, dresses and patterns combined in one PDF file (14 pages).
Individual Size Charts | PDF
Tutu.com Pattern Listing | PDF 
Panty & bodice pattern size charts with detailed information and measurements.
Custom Measurement Worksheets
JUMP TO NAVIGATION